November 28, 1977
The 1st concert: "Meeting with East and West"
November 2, 1978
The 2nd concert: "Echo of East and West"
March 28, 1980
The 3rd concert: "Tenrai Chikyō"
May 10, 1983
The 4th concert: "World Buddhist Music Festival"
June 3, 1986
The 5th concert: "World Buddhist Music Festival"
― Bukkyo Dendo Kyokai 20th Anniversary―
September 18, 1989
The 6th concert: "In Praise of Śakyamuni: World Buddhist Music Festival"
―Bukkyo Dendo Kyokai 25th Anniversary―
October 1, 1990
The 7th concert: "In Praise of Śakyamuni: A Night of Music and Narration"
~The Echo of Ten Quarters~
September 30, 1997
The 8th concert: "In Praise of Śakyamuni: World Buddhist Music Festival"
―Bukkyo Dendo Kyokai 30th Anniversary―
October 29, 1999
The 9th concert: "In Praise of Śakyamuni: A Night of Lecture and Music"
―Bukkyo Dendo Kyokai 35th Anniversary―
September 29, 2000
The 10th concert: "In Praise of Śakyamuni: A Night of Lecture and Music"
―Bukkyo Dendo Kyokai 35th Anniversary―
December 6, 2002
The 11th concert: "In Praise of Śakyamuni: World Buddhist Music Festival"
―Ceremony for Restoration of Tsukiji Hongwanji Temple Pipe Organ―
October 7, 2004
The 12th concert: "In Praise of Śakyamuni: A Night of Lecture and Music"
―Bukkyo Dendo Kyokai 40th Anniversary and the 38th Cultural Award for the Promotion of Buddhism―
November 18, 2005
The 13th concert: "In Praise of Śakyamuni: Public Performance of Music Works"
―Bukkyo Dendo Kyokai 40th Anniversary―
The theme: ITSUKUSHIMI "Loving Compassion"
November 27, 2008
The 14th concert: "In Praise of Śakyamuni: Buddhist Music Festival"
~Public Performance of Music Works~
The theme: SASAEATTE "Mutually Sustaining Life"
November 30, 2011
The 15th concert: "In Praise of Śakyamuni: Buddhist Music Festival"
―Shinran 750th and Honen 800th Memorial Service & Charity Concert for The Great East Japan Earthquake―
The 14th BDK Buddhist Music Concert -First Prize Song "Kimi ha Hitorijanai" (You Are Not Alone)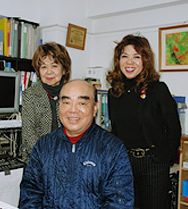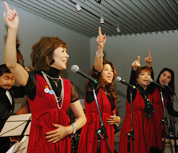 Ms. Madoka Kataoka,
Mr. Yasutoshi Nakajima,
Ms. Mami Sawamura
Lyrics: Madoka Kataoka
A member of Japan Nursery Rhyme Association. Studied with SATO HACHIRO, mainly writes poetry, nursery rhymes, home songs, choruses and writes songs for TV dramas, radio programs, and various concerts. Major works: "Hikaru Fune" (Shining Boat), "Aozora minagara" (Looking Up at the Blue Sky)
Melody: Yasutoshi Nakajima
Studied in America and graduated from Santa Monica City College. After returning from the United States, he debut as a composer for Japan/Colombia recording. He established a music school and offers classes for voice training. Major works: "Kyoto no Yoru" ( Night in Kyoto), "Kiri no Kanata ni" (Beyond the Fog).
Vocalist: Mami Sawamura
Originally from Okinawa, and the younger sister of Yasutoshi Nakajima. Her debut was with the song "Sawamura Kazuko to Peter Pan" (Kazuko Sawamura and Peter Pan) after graduating from a music institution. Her major works include: "Touch My Love", "Destination", and "Reminiscence."
What was the motivation to submit your new song to us?
Mr. Nakajima:Although I have been writing songs for about 50 years, this was the first time to write a new song for a competition. Last year, my younger sister, Mami Sawamura, established the "Japan Pops Singers Association" (J.P.S.A.) that has the goal to cultivate and improve the singer's quality, and also does volunteer work with songs and singing. When I heard about BDK's Buddhist Music Competition Concert, I asked myself if there was something that I could collaborate with her on, and decided to send the new tune to you.
What was your inspiration for the song?
Mr. Nakajima:Actually, I went to the beautiful mountains of Hakone to seek some inspiration for the melody. It was my intention to stay in the mountains until I could come up with the idea for a new song, but I was quickly able to develop my inspiration for the song after only two days and hurriedly returned to Tokyo to compose the song.
The tune you composed was actually selected as the first prize, wasn't it?
Mr. Nakajima:Although I had confidence in my tune, I never imagined that my song would receive the first prize because the music festival competition was at such a highly competitive level. At the concert, Ms. Sawamura and the members of J.P.S.A. sang the song together and put on a very inspiring performance, based on their own personal experiences and feelings of their volunteer activities. That's why the ideals of "Buddhist compassion," which I had included in the tune, came across so successfully.
Ms. Sawamura, can you please explain a little about the volunteer activity of J.P.S.A.?
Ms. Sawamura:J.P.S.A. is currently composed of five members. Some members have jobs and others are homemakers. We visit welfare facilities for older and disabled people, and sing songs with these residents. It is our intention to not only sing songs, but we also strive to communicate the true meaning of the songs to everyone.
So, you even incorporated sign language into this tune?
Ms. Sawamura:Today, many of our problems are due to our busy lifestyles and society in general. It is well known that music has some effect to heal the problems of our hearts. I came up the idea of incorporating sign language into this song since it was my intention to share this song with as many people as possible, from all segments of society.
During your performance, we saw some members of the audience who were moving their hands like you during the song.
Ms. Sawamura:Everyone probably has the preconception that sign language is difficult to do, but I think it is not difficult to express the message "you are not alone" through sign language. It's possible for everyone to learn and share this message by making the sign language motions we use in the song. When we visited a facility for the disabled, we found that the residents liked our choreography. I realized the importance of sign language when I saw the children enjoying the rhythm and sign language even if they did not understand the meaning of the words.
Asei Kobayashi, chairperson of the Music Competition jury was most pleased with the depth of the words.
片岡:I myself did not have any understanding of Buddhism, so I had to read some books on Buddhism. Of course I read "The Teaching of Buddha," but when I read "One Path" which is a collection of talks given by Rev. Dr. Yehan Numata, the founder of BDK, my image of the melody, the lyrics and the picture of the sun on the front cover of "The Teaching of Buddha" book suddenly came together. I fully realized that one is not living by oneself, but that each of us is living through the support and efforts of many, and from this, I was able to finalize the lyrics I wrote with this feeling in mind.
You expressed your feeling as "you are not alone," didn't you?
Ms. Kataoka :The phrase, "you are not alone," has an underlying Buddhist meaning. I also feel that this theme is one that we should consider in dealing with contemporary social problems such as the environment, peace, and so on. I wanted to emphasize the necessity of walking this world together with everybody.
Was this the first time for you to write lyrics for Buddhist music?
Ms. Kataoka :I have written many lyrics to date and have even made some Buddhist compositions in the past because my sister married into a temple family. However, this was my first time to express the teachings of the Buddha in lyric form.
What was the difficult part of writing the lyrics?
Ms. Kataoka :These words do not have a background story, so I tried to write words which were easy to understand.
Mr. Nakajima:In writing the music, I purposely avoided expressing the teaching of Buddhism and tried to keep a rhythm and melody which one can feel from each phrase and the lyrics. I wanted to create music so anyone can receive the message anywhere.
What are your future plans with this tune?
Mr. Nakajima:Now, I feel a responsibility to promote this tune. I want everybody, including Buddhists and those who do not have interest in Buddhism, to sing this song universally. I am thinking of translating this song into English and promoting the tune around the world.
In foreign countries, Christian songs are now being sung universally.
Mr. Nakajima:More than 50 years ago, when I was studying in Los Angeles, I was teaching chorus at both a Christian church and at a Jodo Shinshu Hongwanji-ha temple. In Japan, it is not well known that Buddhism also has music such as hymns, but I felt the feelings of the music which expressed one's sincere heart.
Rev. Dr. Yehan Numata also realized the importance of the hymns in the Buddhist church and established an effort to "modernize Buddhist music and to promote its popularization."
Ms. Sawamura:I also think that it is important to promote Buddhism with music. The other day, I attended a Christmas concert at Roppongi Hills, and then realized that there are many Christmas songs which praise Christ's birth, but there are not many Shakamuni birthday songs. That's why, I wrote the tune "Happy Birthday, Oshaka-sama" (Happy Birthday Shakamuni) with Mr. Nakashima and Ms. Kataoka.
This song has now become a theme song which is sung for the Flower Festival on April 8th to celebrate Shakamuni's birth, isn't it?
Ms. Sawamura:I would like to sing the tune "You Are Not Alone" about our volunteer activities as the theme song of J.P.S.A. I also wish to be able to spread an understanding of the meaning of Hana Matsuri (Flower Festival) through the tune "Happy Birthday, Oshaka-sama." There is an anecdote to all of this. I am regularly taking part in a seminar called "The Teaching of Buddha" being held every month and learned about the history of the Flower Festival (Hana Matsuri) from the Rev. Taido Matsubara who has been the teacher for this seminar for many years. He once shared with us the story about the dreams and activities of a young Buddhist monk who lived during the Taisho era (1911-1925) doing his best to promote the ideal of Hana Matsuri, the flower festival. I would like to carry on those dreams and wishes and sing the song to promote an appreciation of Hana Matsuri.